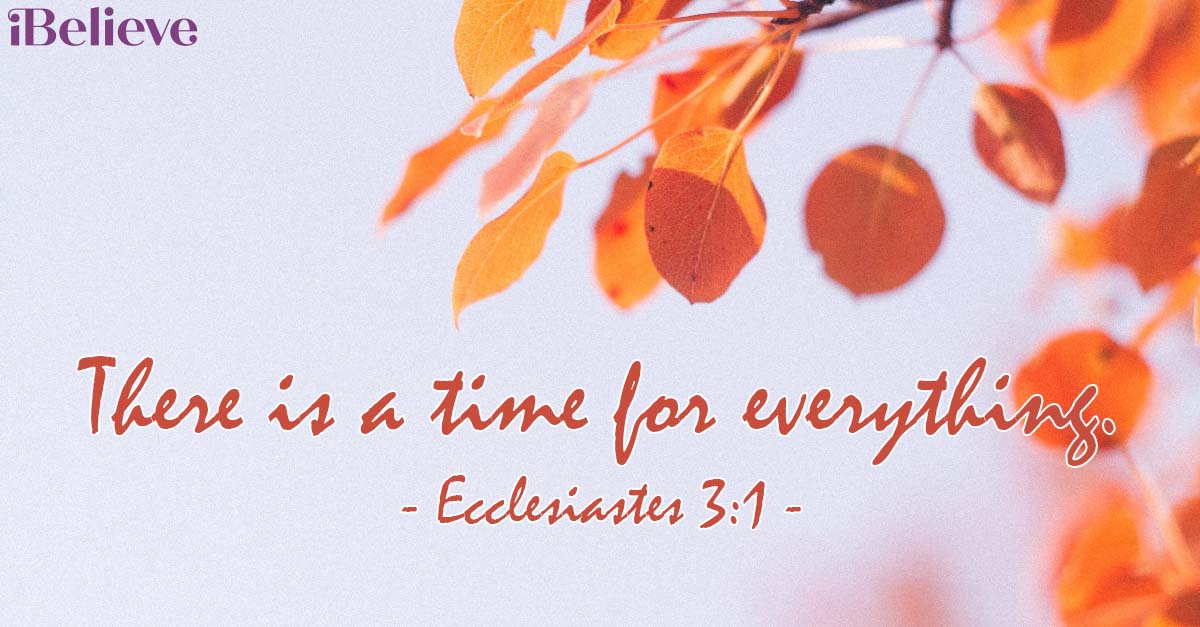 A Prayer for Fall – Your Daily Prayer – September 29
A prayer for the fall
By Emma Danzey
Ecclesiastes 3:1 says, "There is a time for everything, and a time for every activity under heaven. »
It's about to be a season change time here. As I looked out my kitchen window, the tree across the street gave me a glimpse of what was to come. The green leaves begin to turn into vibrant reds, oranges and yellows. The season of fall reminds us in many ways of the underlying work of our Creator manifesting. Just as these leaves become brand new and beautified, with the help of the Holy Spirit, our lives can go through the same type of spiritual transformation process.
Today, as we pray for the coming fall, may he remind us of God's work in our lives and hearts. We are created in his image and transformed in his likeness. As Ecclesiastes shares, there is a season for everything, and we can squeeze this fall season in and reflect on our great God.
Let's pray:
Dear Creator of All,
Thank you for the beautiful changes that are coming. Thank you for the crisp autumn air, the colorful unveiling of your glory, the harvesting of many fruits and vegetables, and the end of your year-long process. As we reflect on your goodness today, thank you for the season reminding us that you are making all things new. Thank you for this time of year which brings freshness, abundance and bright colors.
As I watch your creation through nature, would you remind me of your glory? Reveal to me Your power and Your grace. No matter what I'm going through right now, help me open my eyes to see the visual you're working on and you're not done with me. I confess the areas of sin and darkness in my life. Help me Holy Spirit to be renewed by You day by day. I set my agenda. I lay out my plans for what life should be like and confide in you. Just as You make the trees more beautiful than before, Your plans and your ways are higher than mine.
You say in Psalm 104:19, "He made the moon to mark the seasons, and the sun knows when to set." You are the One who created the moon to reveal the season. Different times of the year have different day lengths for a reason. Different seasons have different temperatures and beauties. Fall is such a busy and exciting time of celebration and life. Help my soul to join in the praises of nature, worshiping you, the Creator.
Jesus, You have celebrated the Feast of Trumpets, the Day of Atonement, and the Feast of Tabernacles in this fall season. These were times of repentance, forgiveness, joy and celebration. As we stand on this side of the cross and resurrection, may we not forget the work you have done on behalf of all who accept you as Savior Jesus. We pray that you may examine our hearts and refine any areas that need to be made more like you. Help us to remember this in this season of Christ's saving grace. Help us to remember that we have received such forgiveness and identity in You.
Lord, the leaves that turn die and grow more beautiful. Would this be a visual reminder for me to die to myself, take up my cross and follow you each day? To live is Christ, to die is to win. Help me not to live by my flesh but by the Spirit so that others can see You. I pray that my life will be a perfume of You. May others see my actions and hear my words and know that you are the living God and that you love them.
Fall is also a time of slowdown. Father, would you mind reminding me to take the step? Would you help me find rest within you and the strength to accomplish the tasks ahead with you? Help me to live out of a place of safety in You. Amen.
Photo credit: ©SalemDesign/BethanyPyle
by Emma Danzey Mission in life stems from Ephesians 3:20-21, inspiring young women to embrace the extraordinary. One of his greatest joys is to walk with the Lord in his scriptures. She is Drew's wife and they have been married for over a year. Drew and Emma serve with the ministry at Upstate CRU University in South Carolina. Emma is an avid writer for Salem Web Network and provides articles on the Bible, life issues and the Christian way of life. Her article on interracial marriage was the most viewed article on Crosswalk for the year 2021. All the glory to the Lord! She has the joy of being the host of His many hats podcast where she explores the many roles women play while serving one God.
Emma loves to sing and write songs, take fitness classes, try new recipes, do makeover shows and drink tea! During her ministry career, Emma has recorded two worship EP albums, founded and led Polished Conference Ministries, ran Refined magazine, and served in early childhood music education. Currently, she is editing her first published book on celibacy. Emma also had the privilege of being a national spokesperson for Mission Mukti based out of India. Mukti has worked for over 120 years to restore broken lives in India. You can see her articles on her blog at emmadanzey.wordpress.com and check out the Her Many Hats podcast on Instagram @her_many_hats.
Want more from your daily prayer? We also have a podcast! This podcast is different from the written devotional you just read, but carries the same commitment to looking more closely at scripture each day. You can find out more by clicking the link below!
Now that you have prayed, do you need someone to pray for YOU? Click the button below!
Visit iBelieve.com for more inspirational prayer content.