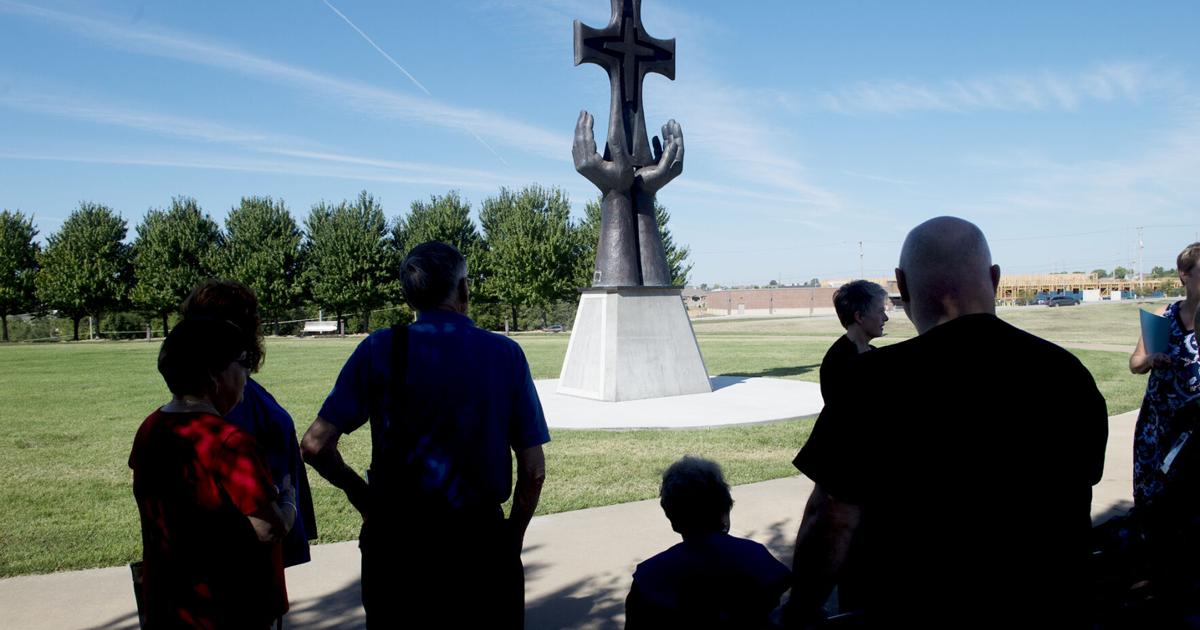 Bronze statue in a park dedicated to Mercy Joplin's 125th birthday | Local News
A bronze statue donated by the St. John's Regional Medical Center Auxiliary 26 years ago and left standing after the 2011 Joplin tornado has been moved to Mercy Park in commemoration of the 125th anniversary of Mercy Joplin Hospital in the community.
The statue, named "Compassion", depicts two large hands holding a cross and was created by Carthage sculptor Bill Snow. St. John's Auxiliary Members paid for the statue through a series of fundraisers and donated it to mark the hospital's centennial in 1996.
It was initially on the grounds of St. John's Regional Medical Center, the former name of Mercy Hospital Joplin. After the 2011 tornado destroyed the medical center, the statue was recovered from the wreckage and returned to its original location after Mercy Park was created.
Built on the southeast corner of 26th Street and McClelland Boulevard, the 16-acre park was donated by Mercy Hospital Joplin. "Compassion" joins several other statues in the park's Rotary Sculpture Garden.
More than two decades later, "Compassion" was rededicated by auxiliary members on Monday to mark Mercy Hospital Joplin's 125th anniversary in the community this year.
Crossland Construction moved the bronze statue to a more visible location near the Mercy Park gazebo in August, where it now rests on a concrete platform.
"It was kind of hidden away, and we thought it would be appropriate to move it to overlook the park that was once our facility here," said Jeremy Drinkwitz, president of Mercy Hospital Joplin.
Drinkwitz said that with its prominent new location, it hopes community members who see it will be moved by it.
"I hope this inspires our community to do exactly what it's all about, to have compassion for one another," he said.
Julie Mercer, Mercy's vice president of missionary services, said at the ceremony that it's a Christian tradition to bless things in order to acknowledge God's presence in and through others at this time and place.
"In a blessing ceremony, we intentionally remember that we have been called to a place of ministry, purpose and dedication to faithful service," she said. "The ground on which we stand is sacred because we recognize the presence of God."
She said the statue serves as a symbol of love, hope and God's promise to the world.
"Imagine how many people will walk past and maybe sit on the pew or come under the pavilion and be truly touched by these hands of God, and with the cross rising, saying love is here and love is here. hope is there," she said. .
Rex Hunt, a Mercy Joplin Auxiliary member for 13 years and the organization's historian, described the statue as breathtaking. He said auxiliary volunteers put in a lot of time and work to fund the statue with fundraisers like bake sales. Mercy Hospital Joplin Auxiliary is made up of volunteers who raise funds for different charities and programs.
"It's a great gesture, and most people didn't even know it was there," Hunt said. "Here about a month ago when they moved, my wife (Tammie) and I came up here, and as I walked up the stairs, I just couldn't imagine. It is one of the most impressive sculptures I have ever seen. He looked like he had the weight of the world.
day of mercy
Drinkwitz said to mark the hospital's 125th anniversary in Joplin, staff members performed and documented 125 acts of kindness throughout the year. This includes everything from volunteering at Ronald McDonald House to donating money to those in need.
"One of the things we've done is allow all of our employees and colleagues to have paid volunteer time off this year, so they've done that," Drinkwitz said. "They made donations, food drives. … There's a roster going on, and it's really neat.
Department-wide, Mercy Hospital is also celebrating its 195th anniversary.
Monday's groundbreaking ceremony kicked off a week-long celebration of Mercy Day, which marks the 195th anniversary of hospital founder Catherine McAuley opening the House of Mercy in Dublin, in Ireland, to serve those in need.
"She was able to do it to help and support them," Mercer said. "Through this work that she did, it really started the commitment to this ministry that we are still a part of."
Mercer said it's significant that the ministry has been around for nearly two centuries and says the work it does is enduring and truly making a difference.
"The service that we have and the commitment that we have, the loyalty of our colleagues lives on, and we know we will be another five years to 200, which will be an exciting anniversary," she said. said.