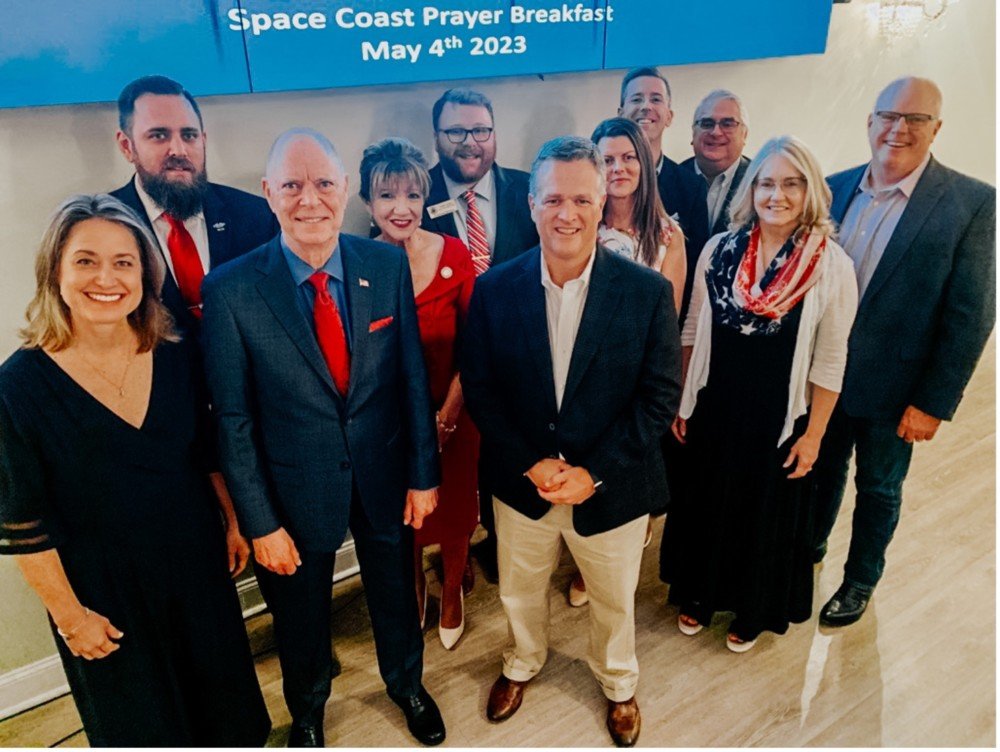 Christian Care Ministry/Medi-Share participates in the National Day of Prayer by sponsoring the Space Coast Prayer Breakfast and hosting an employee event
Christian Care Ministry / Medi-Share, the nation's most trusted healthcare sharing ministry, participated in the National Day of Prayer by sponsoring and participating in the 10th Annual Space Coast Prayer Breakfast, as well as by organizing an on-site prayer time for employees.
Christian Care Ministry/ Medi-Share joined other members of the Brevard County community together in unity at 10and Space Coast's annual prayer breakfast to pray for our nation, our families, our churches, our education system, our military, our workplace, our government and our media. Christian Care Ministry continued the theme of praying for our nation with our employees during an employee rally and an online prayer session.
The 10and Space Coast's annual prayer breakfast included a special message given by Christian Care Ministry CEO Scott Reddig. Speakers included US Congressman Bill Posey FL District 8 and keynote speaker, Executive Director of Helping Seniors Brevard, Rev. Dr. Kerry Fink. Also in attendance and an honorable mention was Florida State Senator Debbie Mayfield, District 17.
Christian Care Ministry appreciates our government officials who stand with this community in prayer. Last year, Christian Care Ministry launched a prayer initiative, specifically to mobilize our sharing community to pray for elected officials and their legislative staff called Project KEEP (Keeping Elected Officials Encouraged through Prayer).
"Praying for those in office is a way to share words of encouragement that will have a positive impact in our communities and ease the burden on our leaders." – Director of Government and Policy Affairs, Lindsey Swindle
The National Day of Prayer was established in 1952, with a joint resolution of Congress, signed by President Harry S. Truman. In 1988, President Ronald Reagan issued a proclamation declaring May 5 of that year as the National Day of Prayer, inviting people to pray for the nation. Three months later, Reagan signed an amended version of the 1952 resolution to permanently set aside the first Thursday in May as the National Day of Prayer.
Christian Care Ministry employees joined the nation in prayer at our Melbourne campus, as well as in Colorado Springs and online. An on-site event was held for employees which opened with the presentation of the colors and the oath of allegiance by the JROTC unit from Eau Gallie High School.
"It was an honor to join other Christian Care Ministry leaders present at the Space Coast Prayer Breakfast on the National Day of Prayer. Our ministry believes in the power of prayer and the importance of praying for our nation. Prayer is part of our daily culture at Christian Care Ministry, but today's events have reminded us how important it is to be united in prayer with Christians across the country. – Christian Care Ministry Chaplain, Cindi Killen
To learn more about the National Day of Prayer, visit: https://www.nationaldayofprayer.org
To learn more about the KEEP project, visit: https://www.votervoice.net/CCM/Events/6496/Register
About Christian Care Ministry/ Medi-Share:
Christian Care Ministry (CCM), a 501(c)(3) non-profit corporation, based in Melbourne, Florida, operates the Medi-Share Program, a Christian healthcare sharing program that provides an affordable alternative to health insurance for religious consumers. Founded in 1993, Medi-Share currently serves over 400,000 members across America. For more information on Christian Care Ministry,
Visit: https://mychristiancare.org/press
Media Contact
Company Name: Christian Care Ministry/Medi-Share
Contact person: Debbie Ryan
E-mail: Send an email
Call: (800) 264-2562 ext. 2233
Country: United States
Website: https://www.medishare.com