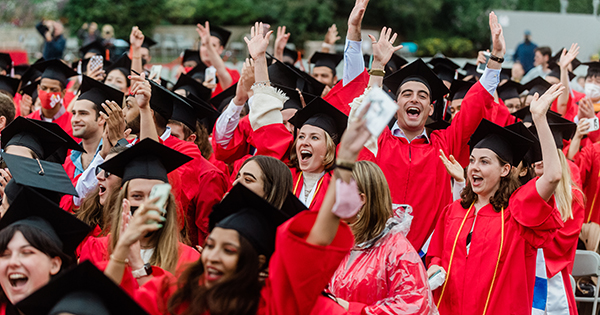 class of 2020 gets the long-awaited shipment | BU today
BEGINNING
Speaker Victor J. Dzau (Hon.'20), President of the National Academy of Medicine: "Apathy is a luxury we simply cannot afford"
Almost a year and a half after graduating, Boston University's Class of 2020 finally donned their scarlet beanies and dresses and were honored for their four years of hard work and study.
"COVID has robbed you of a traditional senior year," said speaker Victor J. Dzau (Hon.'20), president of the National Academy of Medicine, in his opening remarks to the 1,818 graduates of the Class of 2020 who are returned to campus for a long time. -expected ceremony. They have traveled from 46 states and represented 61 countries. "You have already shown incredible resilience and courage," said Dzau. "You prevailed and you are here today with each other."
He noted that an atypical ceremony – which took place like in October, not May – was suitable for the class of 2020 because there is nothing typical about them. Their childhood was marked by September 11, their adolescence defined by the 2008 global financial crisis, and now they are entering adulthood during the biggest public health emergency in more than a century. There will be even more crises and setbacks, Dzau said, and while painful, they can present opportunities as well. "If we can view adversity in this way – as a chance to learn, grow and come out stronger and wiser than we ever thought possible – then we can face the future with confidence. ", he told some 7,500 graduates and guests. Nickerson.
Dzau's pioneering research in cardiovascular medicine is credited with helping millions of people around the world live longer and better lives. As a child, he and his family fled communism in his home country, China, during the Civil War, and moved to Montreal. His research in cardiovascular medicine led to the development of life-saving ACE inhibitors that treat hypertension and congestive heart failure and paved the way for gene therapy for vascular disease. Now, as President of the National Academy of Medicine, he is working to create a global quality and affordable health care system and is leading the academy's response to COVID.
He shared what he learned, sprinkled with anecdotes from his own life: keep going, find your purpose in life, surround yourself with people who help you persevere (and make sure you return the favor), and keep caring and making the world a better place.
Growing up as an immigrant and refugee, Dzau said, he saw firsthand instances of injustice, discrimination and suffering, and he noted that the current pandemic has led to more of the same, in particularly with regard to access to COVID-19 vaccines. "Of the 6.2 billion doses of COVID vaccines administered worldwide, only 2% of people in low-income countries have been vaccinated, this is unacceptable," he said to applause. "We cannot end this pandemic anywhere until we end it everywhere. If we allow variants of the virus to continue to emerge and spread, we might even find ourselves in a situation where vaccines no longer protect us. "
The National Academy of Medicine works closely with the Global Preparedness Monitoring Board (COVAX), the Global Immunization Program and national leaders, including the Biden administration, to ensure equitable access to COVID vaccines, treatments and tests . "Apathy is a luxury that we simply cannot afford any longer, especially when we are faced with big global challenges such as pandemics and climate change," Dzau said. "We need to cooperate with each other, in our communities and across borders. We must continue to care. "
It has been a busy weekend on campus – in addition to Sunday's back-to-school season, individual schools and colleges have held Class of 2020 recognition events (called summons in previous years), where alumni students had the traditional experience of hearing their names called and crossing the stage. The class mingled with many other alumni as well, as the University also hosted its annual Alumni Weekend.
While the Class of 2020 received a virtual shipment in May 2020, when the state of the pandemic made large in-person gatherings impossible, it was no substitute for the real thing. "It may have taken 17 months, but it's a pleasure to welcome the 2020 Class members and your guests to Nickerson Field; you told us you wanted to go back to campus, and you did, "BU President Robert A. Brown said in his salute. "Your senior year was interrupted like no other, you were forced to leave campus and adapt to Zoom learning… You then moved on to your career, all with COVID-19 raging. I couldn't be prouder of you… there has never been a class that deserves a start so much.
Although COVID-19 restrictions have been relaxed more than for the start of the 2021 class last May, University officials have requested that attendees be vaccinated and that masks be worn at indoor events. But many have also chosen to wear masks on Nickerson Field. And unlike the 2021 graduation ceremony, where no guests were allowed, the 2020 class could have four guests.
For the first time in BU history, Commencement's student lecturer — Macken Murphy (CAS'20) —was an alumnus. "It might seem to many of you that the sunset of your upbringing has been taken away from you; I know none of you expected to graduate late from an online university, "he joked, adding that the time spent in school by his classmates has taught them to become better citizens. "Yes, we worked on our math and our writing; we also reflected on our morals and our values. Yes, we have studied science; we also discovered the importance of service. Of course, we have studied history, we have also learned that we live there. Now, finally, it's time to focus on worthy goals, show our intelligence, and prove our character.
After his speech, Dzau received an honorary Doctor of Science degree from Brown. Also awarded honorary degrees Thomas R. Insel (CAS'72, MED'74), former director of the National Institute of Mental Health, Doctor of Science; David Satcher, 16th Surgeon General of the United States, former Secretary of Health in the Department of Health and Human Services, and former director of the Centers for Disease Control and Prevention, Doctor of Laws; and Mark Volpe, who recently stepped down as President and CEO of the Boston Symphony Orchestra, Doctor of Human Letters.
The recipients of the 2020 Metcalf Cup and Prize and the Metcalf Awards for Teaching Excellence, the University's highest educational awards, were also honored. The Metcalf Cup and Prize went to Sarah Sherman-Stokes, Associate Professor of Law at the Faculty of Law, who helped bring national recognition to LAW's Immigrant Law and Anti-Human Trafficking Program. Seth Blumenthal (GRS'13), lecturer in the writing program at the College of Arts and Sciences, and Courtney Goto, associate professor of religious education at the School of Theology, were the recipients of the Metcalf Awards.
"I think we are all very excited to finally have this closing moment and to be reunited with our friends, since a lot of us have left Boston," said Kylie Umehira (COM'20) on her way to Nickerson Field.
"We are reliving some of our glory days," added her friend Becca Bucholz (COM'20). It had been a year since the friends had been able to spend time together, so after the ceremony, they had planned a fine dinner and champagne. "A lot of us are working, so it's good to pretend we're back" as students, she said. "It's good because now that we know what it's like to leave, it makes the comeback even more special."
Alene Bouranova contributed to the reporting of this story.
Find more starter coverage here