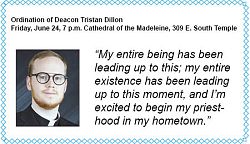 Deacon Tristan Dillon will be ordained a priest
Friday, June 10, 2022
SALT LAKE CITY — A devotion to Saint Joseph the Worker developed during his teenage years set Tristan Dillon on the path to the priesthood. He was ordained a deacon last year and on June 24, feast of the Sacred Heart of Jesus, he will be ordained a priest by Bishop Oscar A. Solis in the cathedral of the Madeleine.
As a child, Deacon Dillon attended Mass with his mother at St. James Cathedral in Seattle, Washington, where he grew up. When he was 16, his family moved to St. George and became a parishioner at St. George Parish. As a teenager in a new state and community, he had few friends at first and began to attend Adoration of the Blessed Sacrament at the parish.
"Whether there was adoration or not, I was going to spend time before the Blessed Sacrament, praying to the Lord, to find out what He wanted me to do with my life," he says.
After he began participating in the drama department at Dixie High School, building sets, he was drawn to St. Joseph the Worker and often asked the saint to help him understand his calling in the vineyard of the Lord, a- he said. "More and more, the calm and silent voice crept towards me to discern the priesthood."
One day, during a display of relics in the parish hall, he prayed to know what he should do with his life.
"That calm, quiet voice got louder and louder and louder saying, 'Become a priest,'" he said. "It was unmistakably present, and I turned around and Father Oscar Picos was just 10 feet behind me."
Deacon Dillon told Fr. Picos, then parish priest of St. George Parish, of his experience.
"'I was wondering when you were going to ask me about it,' he said," Deacon Dillon recalled.
Over the next few months, Fr. Picos became a mentor to Deacon Dillon, who shortly thereafter met with then Diocesan Vocations Director, Fr. Javier Virgen, and Reverend John C. Wester, the ninth Bishop of Salt Lake City, to discuss his vocation.
In the fall of 2013, after graduating from high school, Deacon Dillon enrolled in Mt. Angel Seminary, where he earned a bachelor's degree in philosophy and literature. In May, he obtained his Master of Divinity and Master of Arts (theology).
Deacon Dillon spent his pastoral year from 2019-2020 at St. Joseph the Worker Parish in West Jordan; he also served one summer each at Our Lady of Lourdes Parish in Price and St. John the Baptist Parish in Draper.
"Every parish is different, but the one thing in common is that God's people are amazing," he said of that time. "I have been blessed with so many experiences with the parishioners, their kindness, their overwhelming joy, their devotion to God and to our Savior, Jesus Christ."
The seminary experience is difficult, he said, "but then you can come back, be in the ward with God's people, and it's rejuvenating and exciting and everything is centered. Seminary can be kind of a sterile experience, but then you find yourself with God's people and you feel like, 'Oh, I can keep doing training and seminary for you; it makes sense to you.
Deacon Dillon said he is grateful for his seminary teachers. He has become particularly close to his formator, Father Ralph Reker, who will preach the homily for the newly ordained priest's first mass, which will be celebrated the day after his ordination.
Beginning in August, Deacon Dillon, who will then have been ordained a priest, will serve as parochial curate at St. George's Parish. Although his family moved to Salt Lake City after three years in St. George, he still has a very strong connection to the parish there and is excited to serve, he said, "just to reintegrate my community of origin, to witness to the beauty of the priesthood and the beauty of our Church, prove, hopefully, that training works.
"Every parish experience I've had has been amazing, but St. George's has been one of the most influential places in my life, to be in the quiet of the desert there but to be surrounded by such a vibrant community and wonderful," he continued. . "Nine years of training have led to this, but it's not scary or intimidating; it's just exciting and natural. My whole being has led to this; my whole existence has led up to this moment, and I am thrilled to begin my priesthood in my hometown.
Deacon Dillon hopes to assist in young adult and youth ministry and hopefully "be a positive force for young Catholics struggling in this world of creeping secularism, to say 'know that the things of the world hold much promise , but they give nothing "and testify to the joy of the priesthood and the
Catholic faith
," he said.
WHAT: Priestly ordination of Deacon Tristan Dillon
WHEN: Friday, June 24, 7 p.m.
WHERE: Cathedral of the Magdalen, 309 E. South Temple, Salt Lake City
All are welcome, but places are limited. The mass will be broadcast live on the cathedral's YouTube channel, cotmtv.