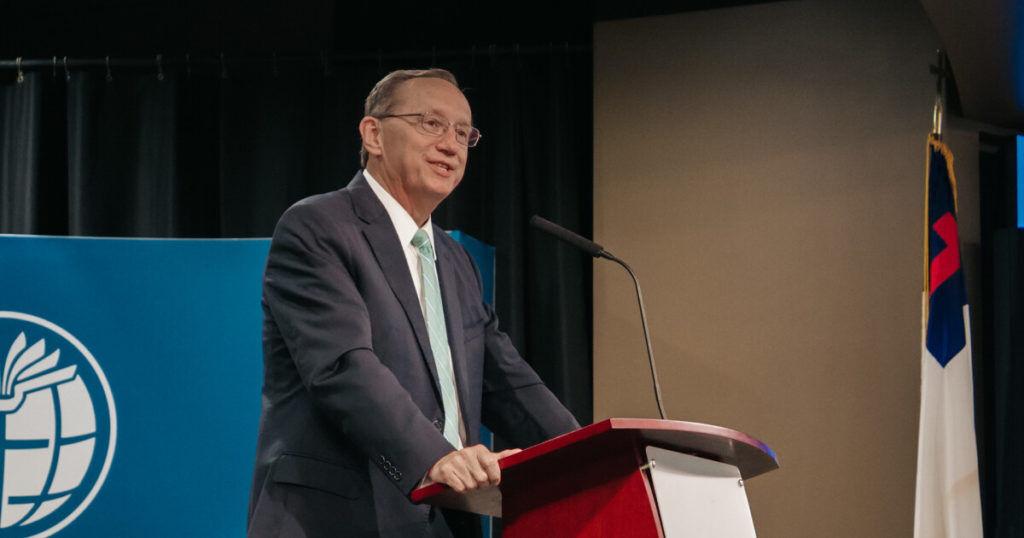 FIRST PERSON: Stop Stealing My Stepmom | Baptist life
ONTARIO, Calif. (BP) – My mother-in-law is an 88-year-old faithful Southern Baptist who lives on a fixed income in a modest retreat center. She loves the Lord, his church and the Southern Baptists. She has always championed the co-op program and understands that as a contributing member of a Southern Baptist Church, she is one of the main funders of Gateway Seminary. She reflects this understanding when she often asks, "How my seminar?
My mother-in-law is not a rich person. Her monthly donation to her church is a generous percentage of her income, but she wouldn't be on anyone's top donor list. Yet her kind of donation is the backbone of the co-op program. This ingenious fundraising mechanism does not depend on a few big cats to fund our work. It depends on millions of people donating small amounts that, when added up, make a huge difference. Tens of millions of people go to missions, ministry, education, and other causes, as the Southern Baptist faithful regularly give thousands of small gifts.
With each new orientation of students at Gateway, I give a presentation on the co-op program and its impact on our students. As part of this presentation, I tell my mother-in-law's story and then say something like that.
"If you get reduced tuition fees at Gateway because of the co-op program, you have an obligation to promote the co-op program and pay ahead for the next generation. As you gain influence as a church leader, it is your responsibility to contribute to the next generation in the same way that a previous generation invested in you.
If you think differently, listen carefully. If you think, "The co-op is an old-fashioned bureaucracy and I have no intention of promoting it in the future," then have the integrity to stop benefiting from the co-op program now. Forgo the co-op tuition fee for Southern Baptist students and pay the full price.
See, my mother-in-law and millions of faithful Southern Baptists like her, are counting on you as future church leaders. They invest in you, keeping the cost of your education as low as possible, so that you can become a minister or a missionary. They are also counting on you to pass the blessing on to future generations.
If you don't plan on doing this, show integrity. Stop stealing from my mother-in-law! Stop taking the co-op program and pay the full tuition rate, unless you commit to promoting it as the primary mechanism for donating missions in the future.
This speech often makes a group of new students jump. They are not used to talking frankly about denominational fundraising. You might be concerned that this straightforward approach discourages interest and loyalty in the co-op program. The opposite actually happens. With almost every new orientation of the students, the students approach me during the break after my speech and thank me for being frank with them. They often ask what is the best way to approach their church leaders to increase their cooperative program donations. And that's the most interesting answer: Non-SBC students are asking for advice on how their church can start giving through such an incredible mission fundraiser.
While you might not be a new student at Gateway, you have likely benefited from the co-op program. If you paid reduced tuition at an SBC seminary, attended a CP-funded Baptist university, were part of a CP-supported NAMB church plant, went on a mission trip to help a CP dependent IMB missionary , acquired new knowledge from a CP-funded a state convention training event, sent your children to a Southern Baptist camp, put your young adults into MedRec at college, or took advantage of one of these as a member of a Southern Baptist church, you have been a beneficiary of the co-op program. Therefore, you have an obligation to pay it forward by ensuring that the same opportunities exist for the next generation. If you take from the Co-op Program, you also have an obligation to give to it – even more generously than what you received.
We have a generation in decline who built and sustained the co-op program. We have a rising generation who have been blessed by the generosity of the previous generation. If you are an emerging leader, now is your turn to use this incredible fundraising tool to ensure the financial strength of Southern Baptist missions, ministry, and education around the world. The previous generation want you to enjoy their generous support, but also want you to extend this blessing to future generations.
JEFF IRG is president of Gateway Seminary.