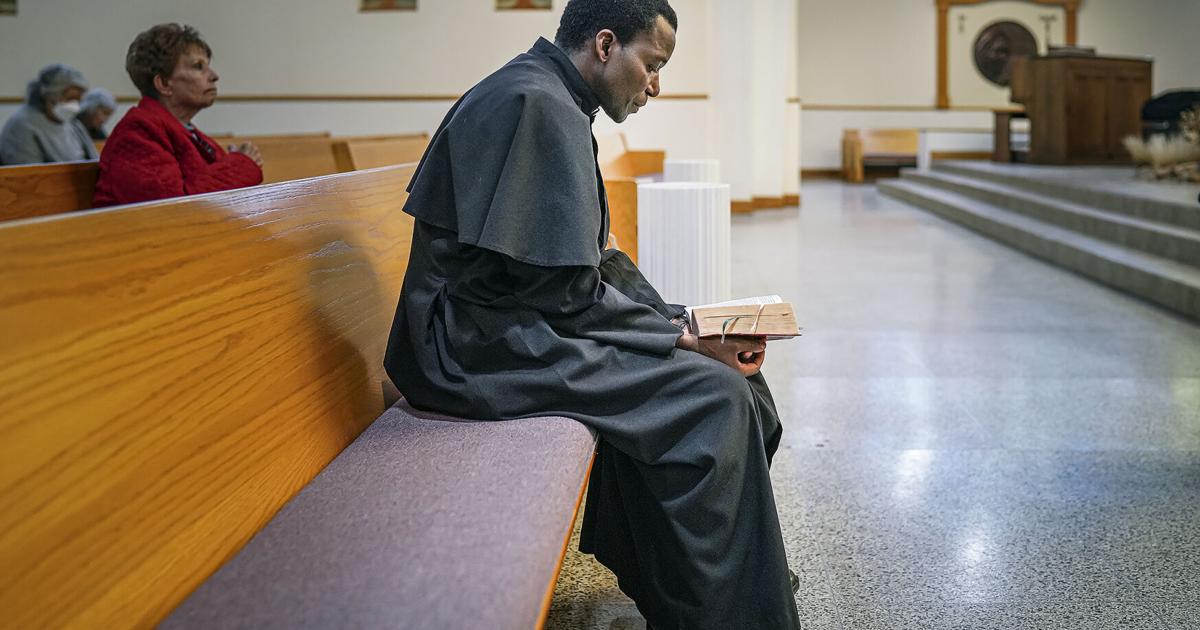 From Uganda to Santa Fe: Father Denis helps those in need | Local News
It was 7 a.m. on a cold Holy Wednesday and about 20 members of Reverend Denis Kaggwa Ssenyonjo's congregation were waiting for counsel and comfort in the small cathedral of the Carmelite monastery in Santa Fe.
A ringing of the bell announced the start of the service as Father Denis, as his parishioners call him, took his place on the pulpit. His smile was warm and welcoming, his tone respectful and reverent, and he seemed to look each of the parishioners not only in the eyes but also in their hearts.
He spoke of Judas' betrayal of Jesus and wondered if the disciple understood his actions when he accepted 30 pieces of silver to lead Roman soldiers to Jesus. Father Denis linked this betrayal to everyday actions centuries later, noting that in our pursuit of what we believe we deserve, we "lose ourselves, forget our spiritual obligation" to God.
"Without God we are empty," said Father Denis, 48, whose life story says he can relate: He said he felt deprived before embracing the teachings of the Roman Catholic Church as a child in his native Uganda.
As Santa Fe, the City of Holy Faith, celebrates Easter Sunday, the priest reflected on what deep faith, good fortune and a long memory really mean.
"Without Easter, I wouldn't be who I am. I would not be a priest; I wouldn't be Catholic; I wouldn't even be in America. Because of Easter, I am what I am.
Renewal, he added, did not come easily – and not without sacrifice. He came of age at a time of hardship, family division and civil war in his homeland, a landlocked nation in East and Central Africa.
He never knew his father, an alcoholic, who died when Father Denis was 6 years old. Although sometimes most identified with the brutal regime of Ugandan strongman Idi Amin in the 1970s, it was the nationwide civil war of 1980-86 that split his family of 11 children, who were dispersed to different parts of the country in an effort to stay safe. .
"It's always a pain for me – not to have a close relationship with my siblings," he said in an interview after Wednesday's service.
Luckily, he says, he ended up with his grandparents. They and his mother were "devout Catholics".
Yet he had to overcome obstacles, including poverty, to become a priest. Although the churches and priests based in Uganda were generally kind to him, at one point one of them fired him. He easily remembers the words: "We've been nice to you for so long; go ahead. If you don't have money, don't come back.
Father Denis said there were thousands of homeless or displaced children like him queuing at the door of the church for help in a country torn by bloodshed, the anguish, separation and death.
A Catholic nun who happened to be a friend of her mother helped her enroll in a Catholic school. He fell in love with the faith and its traditions, including the rituals involved in the mass. Determined to spread the word of the church, he attended Sacred Heart Seminary in Uganda, where he studied to become a priest.
Ordained in 2004, he said his archbishop from the Ugandan church he serves first sent him to Santa Fe in 2008 due to a need for Catholic priests here. He's been back and forth between the two places for years, and in Santa Fe often travels from church to church providing services.
The needs of people, whether in New Mexico or Uganda, are often the same, he said.
"People are spiritually hungry," he said.
One difference, he said, is that in Uganda women and children often come to a Catholic church for refuge.
"They come for safety," he said of women seeking to escape abusive husbands and children who have abusive parents, unemployed parents or perhaps no parents at all. In some cases, young teenagers become the head of the family, caring for up to 10 younger siblings.
And they need help, he said.
When young Ugandans tell him they don't have food, shoes or even access to clean water, he says he remembers his youth.
He was one of them, and he says that's one of the reasons he always tries to find a contemporary way to bring people into the teachings of the Bible.
This ability to connect was not lost on those who came to Mass on a cold Wednesday morning.
Carmelite parishioner Steve Rodriguez said Father Denis "always begins his sermons with a personal story" – a trait the Santa Fean loves.
"I'm always looking for a priest who can relate on a personal level," he said.
Finding a niche on another continent, often an abundant place that looked and felt different, wasn't certain when Father Denis arrived in the United States in 2008.
All he really knew, he remembered, was the gratitude he felt.
"Going to America was something very precious for many people from the third world and for many people coming from my country," he said. "For many people, America is like heaven."
On the other hand, he said, Americans who have never visited developing countries and seen the poverty, disease and death that inhabit them have no idea what it is like. to come from this environment. Recently some friends of his visited Uganda for the first time. He said they were crying because of what they were encountering.
Traveling back and forth between Uganda and New Mexico today, Father Denis said he was trying to make a difference for children in his homeland. With the help of some New Mexico allies, he started the charity Transforming Destinies in Uganda over 10 years ago to help meet not only basic needs such as food and medicine, but also to a school to educate the children.
The nonprofit organization is trying to raise about $150,000 to build dormitories for students attending the school, he said. Many of these students have no choice but to sleep in the classrooms at night.
Father Denis likes to tell a story during his sermons about a young boy on the streets of a dark town who sees activity in a nearby church.
Entering the building, the boy hears the priest inside quoting Jesus from the Bible: "I am the light of the world.
The child responds, "Oh, come to our streets; it's so dark there.
Smiling broadly, Fr. Denis said it was his real job whether he was in Uganda or in a southwestern pulpit on a cold Wednesday morning.
"What I do and what I say should really be about drawing people to Christ," he said. "The message I give should be like the radiant Christ."