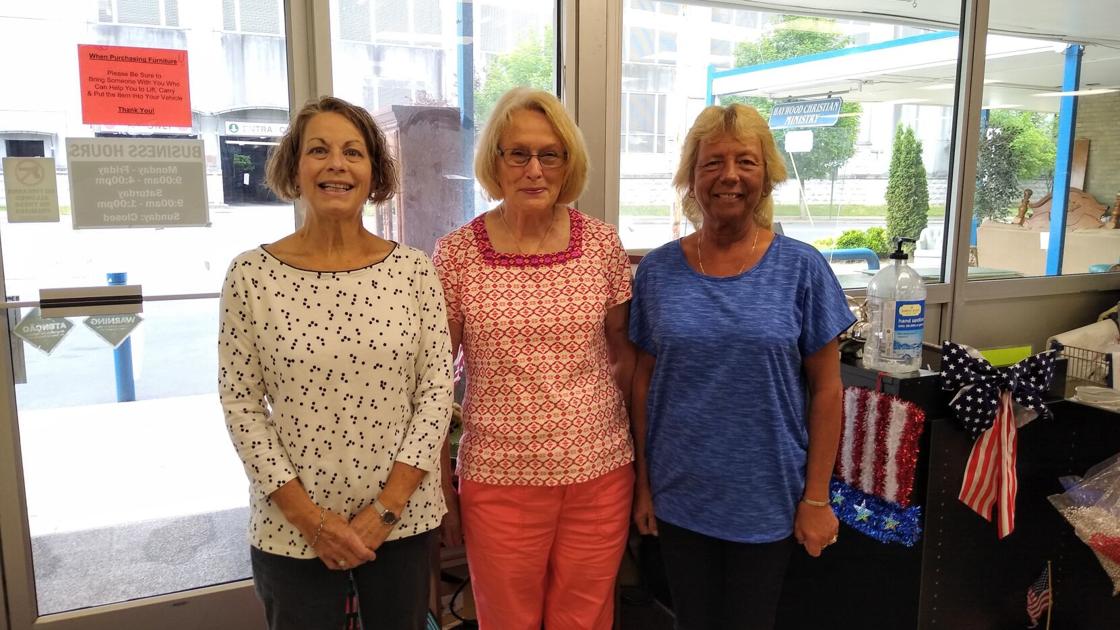 Haywood Christian Ministry Thrift Store: Great Quality, Great Prices, Great Cause | New
Through merchandising and selling donated items in all varieties, the Haywood Christian Ministry thrift store generates a significant source of income to fund the HCM charity operation, which provides food, clothing, medical and dental services and consulting services to its clients.
The thrift store has been managed by Betty Francis since June 2016.
Betty worked at Belks in store management for 23 years. After retiring from full-time service, she decided she wanted to return to work. A friend from Panther Creek Baptist Church told him about the position available as a Store Manager at Haywood Christian Ministry's Thrift store. She applied for the job, got hired, and loved her five plus years at the thrift store.
Betty remembers a touching experience on her first day on the job. She parked her car in the parking lot in front of the thrift store. "As I was crossing Branner Avenue that morning, the sun was shining and the birds were singing, and I looked up and said, 'God, this is where I'm supposed to be. I felt it in my heart, "she said.
There have been changes in the thrift store business over the years. Betty remembers visiting the old ministry thrift store, located at 1374 Sulfur Springs Road. "There were a lot of objects on the floor. It wasn't a high quality retail experience, but later after the department opened this thrift store on Branner, I walked in and just loved the shopping experience. I fell in love with this place, "she said.
During Betty's tenure, HCM acquired an additional property next door at 124 Branner Avenue. This building has been converted into office space for handling new clients and for additional ministerial functions. This purchase allowed the thrift store to significantly expand its commercial areas on the upper level of its building at 150 Branner Ave.
Betty's role as a store manager is to manage the entire thrift store in a way that will create maximum profit for the work of the department.
"When I started here, our sales target was $ 600 to $ 700 per day. I just thought it just wasn't good enough. Now I say to the staff, 'Let's shoot for $ 1,000 a day.' If the staff has a specific goal, they work harder every day to create more sales. In addition, it is very motivating to know that your work efforts are aimed at helping others.
There was an experience last March that really touched Betty and her former colleague Nancy Gatling.
"Nancy and I were getting ready to open the store. It was a cold, freezing morning. I looked out the front window and saw a young woman standing without shoes. I went out and asked her how she was, and she said she was fine but she was homeless. I invited her to the store where it was warm, and she walked in. I spoke to my coworker and said, 'Nancy, she needs help. You and I can buy her a pair of shoes and a coat to help her out. Around that time Steve (Nowakowski) the store manager came in and I told him I had to come back with him because we were helping this young lady. Steve told me to send her across the street to our ministry office and we would process her in the system and give her clothes. We help people here, and that's what I love about this place.
The thrift store was closed from mid-March 2020 to September 2020 due to COVID-19. Of course, this put additional financial pressure on the department. As noted in the previous article, the food distribution division continued its excellent operation and lines of cars could be seen picking up food that supported many people during the height of the pandemic.
"We were so happy to be able to reopen the store last September," Betty said. "Our customers were happy because shopping here is like therapy for them. Working here is therapy for our kind volunteers, but we had no volunteers when we reopened. Nancy and I had to deal with everything in the beginning.
Volunteers were approved to resume helping in the store in April. Currently there are five volunteers in the retail store. The store would love to recruit additional volunteers, and one person could start for as little as two hours a week. According to Betty, the store offers a covered meal for all of its volunteers once a week, which really helps keep the helpers together.
New and used items are donated to the Haywood Christian Ministry Thrift Store.
"I think the quality of the items in our store is what makes us special," says Betty. "There are probably only a few thrift stores in our area that maintain the quality of the items we make. I receive new items from stores in the area, but I am not selling them at a new price. I take 75% off these items.
There is a large sorting area downstairs, so store inventory is neatly displayed in the upstairs shopping areas.
The thrift store offers a nice selection of household items. Betty says she gets a beautiful porcelain and sells it cheaply. She also gets Broken Patterns, which are priced around $ 1.50 per plate.
"Our reading room is unreal. We have a special volunteer – Andy Bartleson – who does a great job, "said Betty. "He is dedicated to our books and also helps in the library. We sell a lot of books.
Furniture is a big seller, according to Betty. "If we sell two pieces of furniture a day, we do well, but we don't overstate it. If a piece of furniture hasn't sold for a week, I'll lower the price every week until it sells, "she said.
Every Tuesday is "Super Tuesday," with an additional 25% off items purchased that day.
"Our men's department is fantastic. We get famous brands on shirts, pants and shoes. Of course, ladies' clothing is always fantastic. We also have an arts and crafts area, office needs area, and artwork.
The Haywood Christian Ministry Thrift Store is open 9 a.m. to 4 p.m. Monday through Friday and 9 a.m. to 1 p.m. Saturday. His phone number is 828-452-2909.