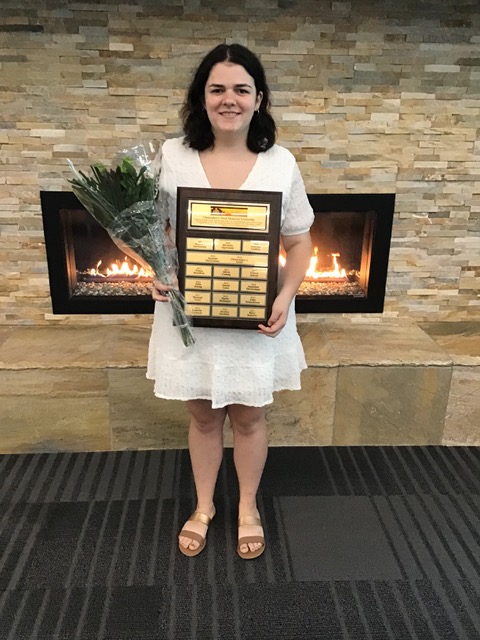 Library Smail Memorial Scholarship goes to Riley Roberts
Riley Roberts of Lewes received the Christopher J. Smail Memorial Scholarship from the Lewes Public Library in a ceremony on August 9.
Karen Smail, mother of Christopher Smail, a 2010 Cape Henlopen High School graduate and former scholar, presented the award to Roberts.
Roberts graduated with honors from Cape Henlopen High School in 2021 and has been a committed volunteer at the Lewes Public Library for almost two years. During that time, she volunteered over 160 hours at the library, training volunteers and helping organize on-site events such as the Teen Career Fair.
"Riley has been an incredibly dedicated volunteer and an exceptional member of our program," said Emily Ellinger, Adolescent Services Librarian. "She went above and beyond – employing twice as many volunteer hours as needed – and demonstrated excellent leadership skills. We couldn't be happier for her and we are delighted with what her future holds.
Roberts will go to Temple University this fall to study genetic research and clinical genetics, with the intention of pursuing a career as a doctor. While at Cape High, she was a member of the National Honor Society, DECA, Cape Book Club, LEO Club, Academic Challenge and the tennis team. She placed first in the DECA Delaware competition in the three years she participated in and received a QuestBridge Quest for Excellence Award in 2021. She also interned in the biotechnology department at Beebe Healthcare and worked at part-time for the urology practice of Dr Ramachandra Hosmane in Lewes. In her spare time, she enjoys tutoring children, crocheting and reading.
The Christopher J. Smail Memorial Scholarship is a one-time, $ 1,000 grant designed to encourage higher education by helping defray university expenses. Smail worked at the library for many years as a page, and the scholarship was renamed in his honor after his death in November 2011.