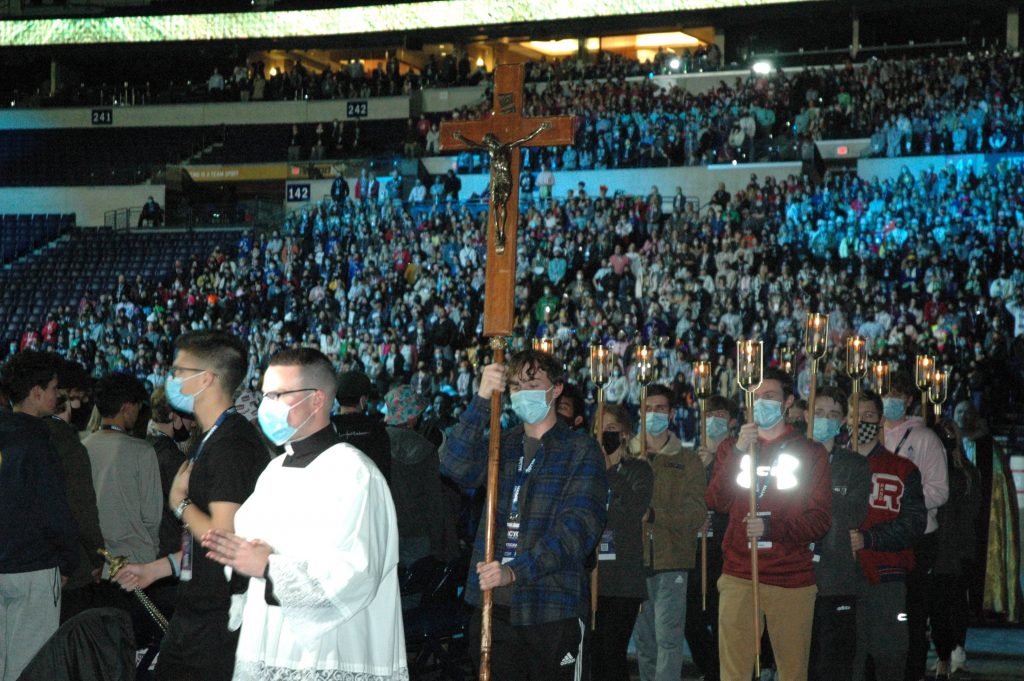 NCYC Plans West Coast Expansion With Long Beach Event This Fall
For the past decade, the National Catholic Youth Conference (NCYC)—the largest Catholic youth event in the United States—has moved to the central city of Indianapolis every two years.
Now, by planting a foot on the West Coast, the event is growing in more ways than one: for the first time ever, the gathering will take place in Long Beach this fall, marking the start of a new schedule that will transform NCYC in an annual conference, alternating between the two cities.
Organizers say the reasoning behind the move west is to broaden coastal attendance, given that most years have typically seen fewer than 1,000 west coast attendees.
"We had seen for several years that the participation of people living on the west coast was difficult, mainly because of finances," said Christina Lamas, executive director of the National Federation for Catholic Youth Ministry (NFCYM).
According to Dayrin Perez, youth ministry coordinator for the Archdiocese of Los Angeles, the idea came from Los Angeles Archbishop Jose H. Gomez after attending the event in Indianapolis.
"Our delegations in the past were small due to travel costs," Perez said. "Having NCYC here in Long Beach makes it much more accessible and affordable."
To make the cost of this year's NCYC – which will be held at the Long Beach Convention Center – even more affordable for teenagers in Los Angeles, the Dan Murphy Foundation has provided scholarships to parishes and Catholic schools to support attendance at the conference. . So far, more than three times the usual number of participants from the Archdiocese of Los Angeles have registered.
Attendees expect standard NCYC fare — stadium masses, dynamic speakers, breakout sessions, and service opportunities — but with a California twist.
"I have to say there has been a lot of intentional effort in building the NCYC in Long Beach to reflect the community, the cultures that are represented on the West Coast," said Lamas, who is based in Washington, D.C. . , but grew up in Los Angeles. "It's been very intentional throughout the lineup, and I think you'll see that show up in the workshops, on the main stage."
He will also appear in conference "villages" or interactive exhibits that engage students with hands-on activities ranging from Catholic social teaching to open mics, and music by four-time Grammy-winning Christian pop duo For King + Country.
And for Perez, the timing of this event is more important than ever.
"One of the things we've learned from the pandemic is that teenagers aren't going to believe what we tell them," she said. "They have to experience it for themselves to be able to believe it. We can tell them every day that they are beloved children of God. Until they experience that love one way or another, nothing will change.
This experience is what is intended to make the whole process – which usually involves travel, admission fees, and time off from school or work – worth it for high school students looking for something new in their spiritual life.
"A lot of times our young people feel lonely, feel the pressures of school and life in general," Perez said. "NCYC is a safe space. It is a space where you can be with people and feel welcomed, loved, appreciated, as if you belong.
Sometimes it is also a place of challenge and growth. Lamas likes to tell the story of last year's NCYC 2021 in Indianapolis, where she was to give a short 15-minute keynote address to attendees. But she ultimately decided that the high schoolers in attendance would be more interested in hearing from one of their own. So she worked with two teenagers – a boy and a girl – and groomed them to take her place.
"I gave them the floor again," Lamas said. "It was such a powerful moment. … The young woman who joined me on stage from that moment was able to return to her home diocese and continue to share. She was invited to different parishes. She was invited to share her testimony with her diocesan newspaper.
The young woman is one of the members of the National Youth Advisory Committee, a group of 12 young people and four adults who provide ideas and advice to the NFCYM.
Although the pope sent a written or video message to participants of previous NCYCs, this year he agreed to meet with the Youth Council on October 12 in Rome, where he presented a message to the NCYC for the representatives to convey in her name.
"I look forward to sharing my experiences not only with my peers and my parish, but also with NCYC in November," Youth Council representative Julia Zerbes said last month. "I hope the stories I share will open people's hearts, minds and souls to the many possible things Christ can do for everyone."
NCYC registration is $320 for general admission or $280 for NFCYM members, with scholarships available for those facing financial hardship. To register or find more information, visit ncyc.us.