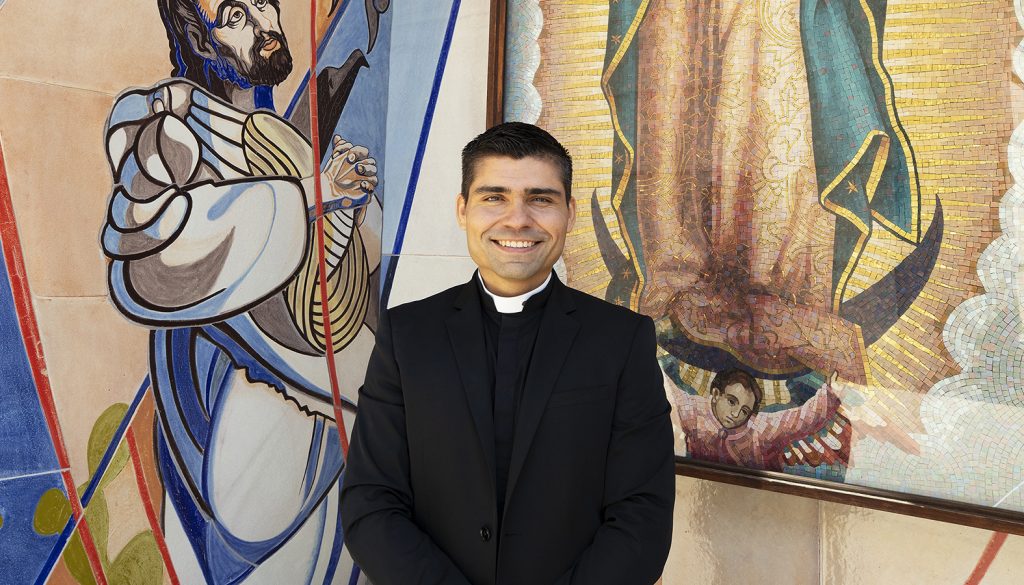 New LA Priests: Juan Martinez
On June 4, Bishop José H. Gomez will ordain eight new priests for the Archdiocese of Los Angeles at Our Lady of the Angels Cathedral.
The Class of 2022 is the youngest group of new priests in Los Angeles in several years, united by their call to service. In the days leading up to their ordination, we will present a new future Father. Los Angeles, meet your new priests!
Age: 36 years old
Hometown: Colima, Mexico
Parish of Origin: St. Finbar's Church, Burbank
Parish Assignment: St. Mariana de Paredes Church, Pico Rivera
The path to the priesthood was a circuitous path for Juan Cesar Carrasco Martinez, a path he traveled between two countries, in and around certainty and doubt, questions and answers, until he land it with a commitment born, he said, "of the strength that you must be the instrument that God wants you to be.
Raised with a younger brother by grandparents who "taught me to love Jesus and his Church," he went to mass every Sunday and noticed everything the priest did. "My grandparents could neither read nor write; they just had this beautiful faith," he recalled. "And I used this beautiful testimony of them [to] to fall in love with the saints, with the Blessed Mother, with the Church.
When he was 8 years old, Martinez's pastor asked him to be a mass server, which he would do until he graduated from high school at 18. old said. "I think that's where my calling started."
At graduation, the pastor told him about the priesthood, but Martinez wasn't sure that was life for him. He attended seminary, but found himself drawn to studying computer science in college.
"I decided to take a break [from the seminary]," he said. "I made this prayer before the Blessed Sacrament: I promised that I would return."
But after graduating from high school, he decided to take a job as an elementary school teacher.
"I remembered the promise I had made to Jesus, but I was in good balance, living on my own, it was a good life. It was too hard for me to leave all that and go back to training.
But after two years of teaching, he said he suddenly felt "an emptiness in my life" and began to wonder if teaching was filling his life. He approached a priest seeking spiritual direction, and after about a year the priest said he believed God was calling him back to the priesthood.
"He recommended that I pray a lot about it," he said. "And so I prayed before the Blessed Sacrament and I found this call that God had given me."
Although he made the decision to follow God's call, things did not get any simpler or easier. In 2016, he moved to Los Angeles to study English at Cal State LA and attend St. John's Seminary. He described those early days as "painful", as he struggled to understand readings and homework in a language he was still learning.
But his resolve was encouraged by Father Julio Gonzalez of Our Lady of the Rosary Church at Paramount, who invited him to come and help serve his predominantly Spanish-speaking flock.
As he prepares to take on the kind of ministry he watched his pastor do all those years ago, he looks forward to "walking with the people of God." He says his faith has never been stronger and he has learned that when you "make a promise to God, he will never forget it. He will send the right people to get you back on track. In my case, it was meeting spiritual direction with this priest, realizing that Jesus was calling me again.
For others considering the road ahead, he said he would recommend simply opening "your heart to Christ." So as not to be afraid, God never pushes you, you can choose freely. Sometimes we don't feel worthy of these vocations, but God will give you the gifts and the strength you need.
"I found this joy and fulfillment [in the priesthood] that I haven't had in my career.
This year's ordination is open to ticketed guests only. To attend virtually, go to LACatholics.org/ordination.