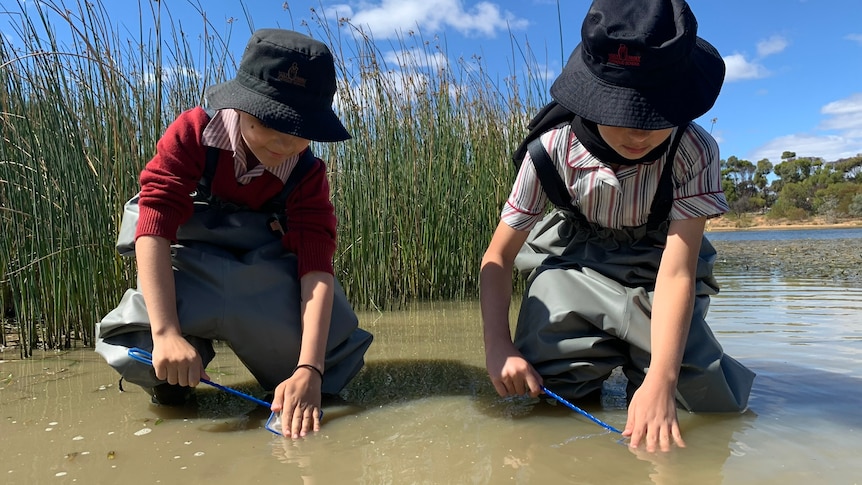 Pupils from an Adelaide school are helping to bring back endangered species of fish
At a dam near Murray Bridge in South Australia, anticipation is growing as three schools from opposite sides of Adelaide gather to release dozens of small, rare river fish.
"I think all the kids felt like surrogate parents because we raised them from little dots," said Kerry White, principal of Holy Family Catholic School.
It is one of the few schools in South Australia to work with the non-profit organization Aquasave to bring the southern purple-spotted gudgeon back from the brink of extinction.
"They were declared regionally extinct between the 1970s and 1980s. No one had found them," said conservationist Sam Hardy.
"And then in 2002 the fish was found, but it was getting rarer and rarer."
Children fight for the future of fish
Sam Hardy says children play a vital role in turning the tide by raising the slow-moving little ambush predator many people know nothing about.
"It's a great way to get these young people involved in what we do and to get the message out that these fish are important," the conservationist said.
For the director of fish farming at Holy Family Catholic School, it was also a personal change.
Mr. McCarthy runs a company called Teach Fish SA, which he established after four decades of leadership in teaching and education.
He first took students on a fishing trip, but when the Holy Family Catholic School gave him the green light, he set up an aquaponics farm at Parafield Gardens Elementary School.
It's been a big hit with students like 10-year-old Kayden, who loves feeding the fiery barramundi.
While the well-known large barramundi are a crowd pleaser, it was the addition of the lesser-known little purple-spotted gudgeon that took the project to the next level.
The school built a series of billabongs to accommodate the growing population.
Fun learning
From designing the farm to maintaining it and caring for residents, there are many valuable lessons in the hands-on fishing center.
One of the main lessons is about sustainable food production, with water from the reservoirs being used to grow the school's extensive vegetable garden.
"The kids most reluctant to go to school love it because they don't see it as a school, and sometimes they'll say almost suspiciously 'am I learning'?" said manager Kerry White.
The Fish Quarter, which includes an interactive educational facility next to the farm, has also been incorporated into more traditional subjects such as science, English and math.
The school is home to over 20 species of fish.
Hope for endangered species
In the meantime, back at Murray Bridge Reserve, it's time for the students to say goodbye to their first batch of home-grown gudgeons.
"I hope they will be happy in their new surroundings and stay healthy," said Javeiria, another student participant.
Bringing endangered fish back into the wild is a challenge in South Africa, with drought and carp wreaking havoc in their preferred habitat.
"They like the slower parts of streams and faster moving rivers," Sam Hardy said.
Previous releases at the site where they were last found in the Murray River have not taken off.
So conservationists are now hoarding numbers in more suitable sites away from the river until they can get the real thing down to zero.
Sam Hardy is confident that the students' efforts to give the fish a fighting chance will pay off.
Watch this story on ABC TV's landline at 12:30 p.m. Sunday or on ABC iview.