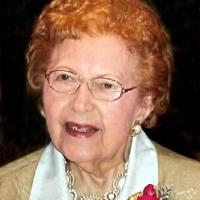 Rose Valuch | Obituaries | lancasteronline.com
Rose Valuch, 95, of Lancaster, went to join her Lord on March 17, 2022, at her home surrounded by her daughters. Born in Coaldale, Pennsylvania, she was the daughter of the late John and Ella (Costello) Karnish. She shared 38 years of happy marriage with Walter J. Valuch, until his death in 1985.
Rose was generous with her love, her cooking and her home. She enjoyed throwing parties and birthdays for her family. She was devoted to her family and her faith and was a longtime member of St. Anthony of Padua Catholic Church, where she volunteered at Resurrection Catholic School.
Rose's greatest legacy was her family. She will be sadly missed by her daughters: Lynn Newcomer (Robert), of York, and Ann Valuch of Lancaster; his sisters: Irene Shelton (William) and Helen Shelton Keller (Robert), both of Lancaster; grandchildren: Matthew, Susan, Elizabeth, Ryan and Rebecca; great-grandchildren: Adriana, Robbie, Rosti, Elena, Avery, Alana, Anthony and Parker, as well as several nieces and nephews with whom she shared a special relationship. She was predeceased by a grandson, Brian.
A visitation will be held on Tuesday, March 22, 2022 from 10 a.m. to 11 a.m. at St. Anthony of Padua Catholic Church, 501 E. Orange St., Lancaster, PA 17602, immediately followed by a Christian burial mass at 11 a.m. h. Interment will follow at St. Anthony Catholic Cemetery. In lieu of flowers, memorial contributions may be made to the Women's Care Center of York, womenscarecenter.org, PO Box 1621, York, PA 17405 or Resurrection Catholic School at St. Anthony of Padua Church, 521 E. Orange St., Lancaster, PA 17602.
To send condolences to the family, please visit SnyderFuneralHome.com