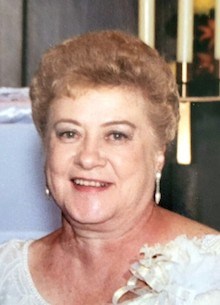 Sandra Ferenchak – Obituary – Mahoning Valley
Oct 25, 1935 – Sep 29, 2021 (85 years old)
COLUMBIANA – Sandra Ferenchak, 85, passed away peacefully Wednesday evening (September 29) at St Mary's Alzheimer's Center.
Sandy was born in Youngstown on October 25, 1935 to John and Averill (Harrison) Hovart.
She grew up on the South Side of Youngstown and graduated in 1953 from South High School.
Although she dyed her hair blonde, she was a born redhead and had the personality to match. Outgoing, witty and funny, she hardly ever forgot a name or a face and most people who met Sandy never forgot her either.
Sandy started dating Rich Ferenchak in high school and waited for him while he finished his military service in the occupying army in South Korea.
After his honorable release from the US military, they fled in March 1956 to Indiana and were married by a justice of the peace. Back then, a Baptist like Sandy couldn't marry a Catholic like Richard without converting to Catholicism, and it was a conversion she was unwilling to make.
She spent the rest of her life being a more religious Catholic than most Catholic schoolchildren, but remained a Baptist until the end.
After 11 years of marriage during which she worked for Dr Gramet the orthodontist and then as secretary at Youngstown Concrete Pipe, Sandy and Rich welcomed their son, Richard. Their daughter Heather followed four years later and due to expenses incurred to raise two children, Sandy accepted a job as a police dispatcher with the Boardman Police Department in 1972.
She continued to work for Boardman Township until her retirement after nearly 30 years of service.
After her retirement, she spent her time watching her grandchildren Makenzie, Hannah and Ricky at their school and athletic activities and playing the neighborhood pseudo-grandmother role to many of the kids in her neighborhood who called her. all affectionately "Grandma Sandy".
Sandy was proud to be a good cook and especially enjoyed preparing the traditional Slovak Christmas meal every year for her family.
In the footsteps of his father, a baker. she also made dozens of kolache – nuts and apricots – and gifted them to family and friends every year at Easter and Christmas.
She loved the ocean and especially her vacation to Myrtle Beach with her husband and kids and later grandchildren and extended family.
Sandy was predeceased by her husband, Richard S. Ferenchak, who died on September 17, 1989; his parents; and her sister, Marlene Carbon.
She is survived by her son, Richard (Tracey) Ferenchak; their children Makenzie Ferenchak, Hannah Ferenchak and Ricky Ferenchak; and her daughter, Heather Ferenchak.
Material tributes can be paid on behalf of Sandra at the Mahoning Valley Rescue Mission 962 Martin Luther King Jr. Blvd. Youngstown Ohio 44510.
Family and friends can call Sunday (October 3) from 2 p.m. to 4 p.m. at Fox Funeral Home, 4700 Market St., Boardman.
To send flowers to the family or to plant a tree in memory of Sandra Ferenchak, visit our flower shop.