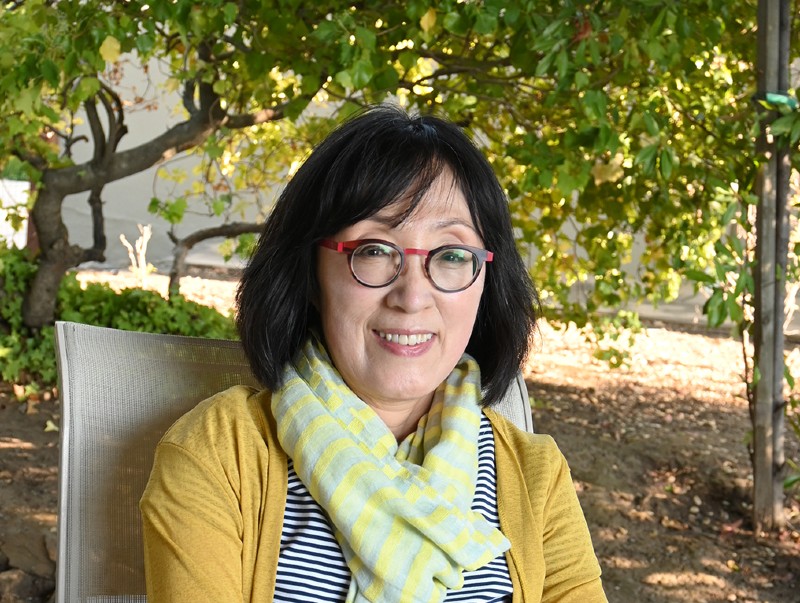 This hospital chaplain has a whole story to tell: her own
While touring Stanford Hospital, Reverend Sookja Han of San Carlos considers it a "privilege" when dying patients want to share their life stories with her. "Everyone's life story is unique," ​​says the hospital staff chaplain, "but universal". It would be hard to find a better example of this than Han's unlikely career path – leaving the venture capital world behind for seminary training when she could have planned for retirement.
"I used to live a lavish lifestyle," says Han, dining at Michelin-starred restaurants and not thinking of spending $ 10,000 for a designer handbag. "Every month I spent around $ 10,000 on myself. Buy stuff! She hit a spiritual wall in her 40s after a cancer diagnosis that led her to take stock of her life purpose, and after a long and serious soul-searching, she decided to enroll at the Menlo campus. Park at Fuller Theological Seminary. Han's plan was to get by without pay during the three years she would train for the ministry, so she downsized, selling her house in Los Altos and moving to a smaller one in San Carlos. When she arrived at theological school in 2012, she was behind the wheel of a vestige of the life she had left behind: her Jaguar. She laughs at the memory. "I told people, 'I can't afford a small car. It is all I have. So forgive my big car.
This story originally appeared in the October edition of Climate Magazine. Click here to read the full digital publication.
Born in Seoul, South Korea, into a family of educators, Han graduated in geology with the goal of becoming a teacher. Raised a Buddhist, she converted to Christianity at the age of 18 despite opposition from her parents. Han went to college in Utah and married another student. In 1982, her (now ex) husband got a job in Silicon Valley, where the couple raised their daughters, Michelle and Christine. Han, meanwhile, got another master's degree – in computer engineering – and went to work for Apple, earning an MBA while she was there. She has gone from Apple to a succession of positions – in tech start-ups and then venture capital firms, most notably as managing director of the US office of a Korean venture capital firm. During her career, she has traveled, primarily in Asia and Europe, to see clients, develop markets and bring together millions of dollars from investors. "I traveled abroad almost every two weeks," she recalls. "I was literally in the air most of the time." Measured in money, business accomplishments, college degrees and lifestyle, this motivated businesswoman was the epitome of success, even though, working late into the night, she wondered "What the hell is it?" I do ? "
The shock of being diagnosed with breast cancer in 2004 left her in shock. "I couldn't really think. I was unable to sleep. I couldn't do anything. Nothing made sense to me. 'Why God? Why is this happening to me? When his cancer turned out to be early and treatable, Han's anger turned to gratitude. "We're all talking about a kind of cliché: we all die," she says. "But when you're diagnosed with cancer, 'Okay. I can die. So what am I doing here? ' Although she felt a persistent call to go to the seminar, Han found the idea ridiculous. But even though she protested, "God kept giving me the same message, 'Trust me.' "
When she finally arrived for her studies at Fuller, she was one of the oldest students in her classes, where Han's knack for learning foreign languages ​​came in handy, as she had to learn the Hebrew and Greek. Still competitive even at the seminary, straight student A was encouraged to pursue a doctorate. "I said, 'Thank you but no thank you.' I want to be in the real world. She received her master's degree in divinity in 2015, then did pastoral work in a local church, as well as further education until she found her niche.
Her new career as a paid chaplain has been delayed, in part, by the pandemic, but Han now has about a year and a half under her belt working with patients and their families. This summer, the former high-profile business executive landed a full-time job as a staff chaplain at Stanford and was also ordained to a Presbyterian church in San Mateo at the age of 65.
It is not her chaplain's job to proselytize and she is available to anyone who wants to talk, one of which is an angry patient who gave her a middle finger (he finally gave in and opened up ). "I used to be a restorer or a transformer," Han says, and she learned to build relationships and just listen to people, sometimes still weighed down by early abuse. A heavily tattooed patient had been subjected to exorcisms as a child. "I just thought of her as a suffering human being," Han said. Counseling those facing death has taught her how important it is to take care of relationships. "Almost all of my patients have relationship problems," she says, "broken relationships, estranged from their children and siblings" that make them reluctant to work things out even at the doorstep of death. Han is doing his best to chart a "healing path" for family reconciliation and to offer prayer and comfort so that patients experience peaceful deaths.
A few years ago, she reconnected with a man she worked with during the venture capital era, who commented on how "brilliant" she looked. Han told her about her unlikely career path which she finds later in life which she finds so fulfilling: "It really is the crowning glory of my life."