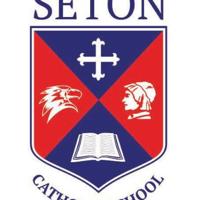 Vision 2022: Seton Catholic School | Vision
Seton Catholic School
At Seton Catholic School, we achieve great things because we believe we can.
We believe in service. We are deeply rooted in the love of our local community, collecting over 1,200 items for the pantry and sending over 100 volunteers to clean up French Creek. We raise money for our own Angel Fund which gives back scholarships to students in need. Our college students are required to do 20 hours of service per year independently. And these are just a few examples!
We believe in potential. Our dedicated staff helps every child thrive academically, grow spiritually, show kindness and show respect. Our small class sizes allow for individualized attention, fostering a family atmosphere that nurtures each learner.
We believe in education. Our teachers are Pennsylvania-certified lifelong learners who inspire their students to achieve high standards. By using standardized tests to identify strengths and future needs, we don't have to teach until the test. Our goal is excellence in reading and this is the key element that puts us above it.
We believe in faith. Grounded in the teachings of Jesus Christ and the Catholic Church, we welcome all faiths and work to maximize each person's God-given potential.
We believe in curiosity. Our teachers know that education begins with a sense of wonder, so they strive to foster a genuine love of science and math. Our students exceed state standards and excel in science competitions.
We believe in culture. From our ever-growing music program with semi-private instrument lessons, choir, orchestra, band, and musicals to our new ukulele program, we thrive in arts culture.
We believe in creators. Our students learn computer programming and how to grow food in our community garden. They do chemistry and dissection labs and hatch eggs in the classroom. They create works of art.
We believe in doers. We incorporate a strong physical education and sports program into our vision because we know that exercise, self-discipline, teamwork and responsibility are key to helping children grow into happy, productive adults.
Seton believes in greatness. If you've ever been curious about Seton, we invite community members, alumni, current and new families to join us on February 24 from 5:30-7 p.m. for our open house.