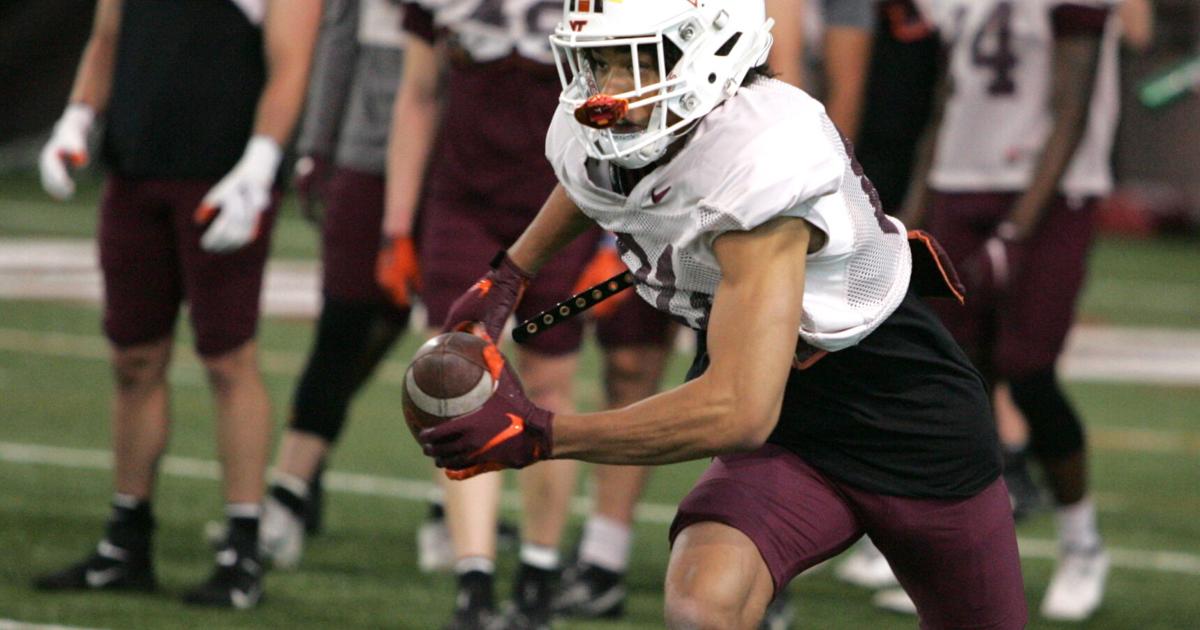 Why Virginia Tech's Low Receiver Scholarships Isn't Too Alarming | Virginia Tech
BLACKSBURG — The Virginia Tech coaching staff has talked about an extra receiver with one of two open scholarship slots it has for fall camp.
The Hokies came out of the spring with just nine scholarship players in the position, and that number includes a pair of real freshmen.
Fontel Mines, the technical receivers coach, would appreciate a bit more depth, but those current numbers don't freak him out.
"We have guys who are more than capable," Mines said in an interview with The Roanoke Times in June. "We tell them since we set foot here, we've had enough. We have enough in the room. I think these guys buy into that philosophy.
Mines came out of the spring with a pretty good idea of ​​likely first-team receivers. Veterans Kaleb Smith and Jadan Blue are up there with sophomore receiver Da'Wain Lofton, who Mines says is a star in the making.
The rotation beyond is more of a work in progress with a group of receivers — Dallan Wright, Jaylen Jones, Stephen Gosnell, Christian Moss, Tucker Holloway and Xayvion Turner-Bradshaw — who have combined three career catches for 26 yards.
This inexperience has drawn a lot of attention, but Mines thinks they left spring camp heading in the right direction.
"They work," Mines said. "That's the biggest attribute all these guys have. They just work, they put their heads down and go to work.
Mines and new head coach Brent Pry mentioned that Wright was one of the standout players in early practices. Injuries prevented him from maintaining the same level of play throughout camp, but Mines was happy with how Wright fought through that adversity.
"It wasn't something flashy, but the fact that he got into a fight, got rehabilitated and got back on the pitch [for the spring game] showed a level of maturity that I had never seen before," Mines said.
Mines wants to see more of Wright this fall.
"You're talking about a guy who's blinking and showing all the signs of having the ability to be an ACC receiver, he's got it," Mines said. "He has length. He has speed. He trusts. He needs to continue to be more durable and continue to embrace the receiver position.
Gosnell, a transfer from the University of North Carolina, also had an uneven spring. The third-year wide receiver played 15 games over two years for the Tar Heels, with several of his reps serving on special teams.
"As a transfer is coming, it's a new dressing room, it's a new staff, it's a new attack and it was a lot of new for him," Mines said. "I think he kind of struggled to push his body to get in shape, and I think if you ask him now he'll tell you I was maybe a couple pounds heavier than I was. should have been."
This won't be a problem for the fall.
According to Mines, Gosnell remained at Blacksburg after the end of camp and spent much of his time at the football center.
"I've been here on random days and he's still here," Mines said. "He's still in the weight room. He has changed his body and he moves better, he looks better and he feels better. …He just needs confidence. He needs an opportunity to prove himself and get comfortable in the dressing room and familiarize himself with the staff and his teammates.
Gosnell has already proven at Mines that he can catch the ball, and at 6-foot-2 and 210 pounds, he has some physicality in his game as well.
"He's going to find different ways to break up," Mines said. "He's really savvy."
Jones might be the closest of that first group with Mines giving him a chance to work all three receiver positions during spring camp. The sophomore receiver had one of the standout moments of the spring game when he turned a short catch into a first down with an impressive juke move on veteran safety Chamarri Conner.
"I think as the spring progressed it got better and better," Mines said. "He started on special teams as a gunner and running on kickoffs, and those were the things that were noticed. He continued to gain self-confidence. »
Jones shows up to his exit meeting with Mines at the end of spring camp with a notebook and a pen — he was the only catcher to do so.
"That's who he is," Mines said.
Mines can't wait to see what's next for each of them in the weeks to come.
"I'm about right at seven o'clock [receivers] that I feel good, really good," Mines said. "I'm going to coach my butt and coach everyone in this room and keep elevating these guys."